Enable Hibernate in Windows
---
For users who don't know what is Hibernate; Hibernation is a power-saving state, designed primarily for laptops. While sleep puts your work and settings in memory and draws a small amount of power, hibernation puts your open documents and programs on your hard disk and then turns off your computer.
So, if you are going to leave the computer for long time and want to keep all your documents and applications opened, or you ran out of battery, then Hibernation is your best solution.
Enabling the setting in Windows XP / 2000 is very easy, but for Windows 7 / Vista you will need extra work.
Windows XP / 2000
1 - Click Start, click Control Panel, click Performance and Maintenance, and then click Power Options
2 - Click on Hibernate tab, click the Enable Hibernation check box and you are done.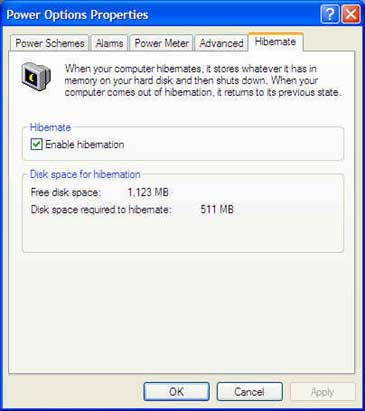 If you don't see the Hibernate tab in the Power Option, then your hardware don't support Hibernate, you have to check with your manufacture.
You will need a free disk space equal to the amount of installed RAM.
Windows 7 / Vista
There are two options to enable Hibernate:
1 - Type CMD in Start menu and then hit Ctrl + Shift + Enter to open the Command Prompt with Admin rights, or right click on CMD and click Run as administrator.
At the Command Prompt type: powercfg /hibernate on

2 - Type Power Options in Start menu and hit enter.
In the left pane, open the link labeled "Change when the computer sleeps" and then open the link "Change advanced power settings".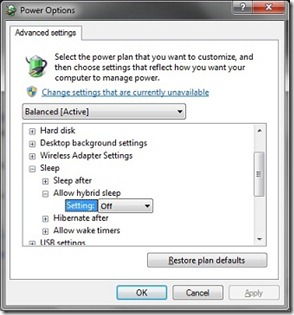 Under the Advanced Sleep options, expand the Sleep tree and turn off Hybrid Sleep.